Tuesday, 08 December 2020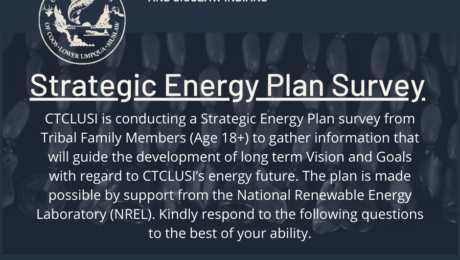 Participants will be entered into a drawing.
CTCLUSI is conducting a Strategic Energy Plan survey from Tribal Family Members (Age 18+) to gather information that will guide the development of long term Vision and Goals with regard to CTCLUSI's energy future. The plan is made possible by support from the National Renewable Energy Laboratory (NREL). Kindly respond to the following questions to the best of your ability.
Please print, fill out, and return surveys to Mark Petrie, Tribal Council Vice-Chair at mark.petrie@ctclusi.org or to Roselynn Lwenya, Ph.D Natural Resources Director at rlwenya@ctclusi.org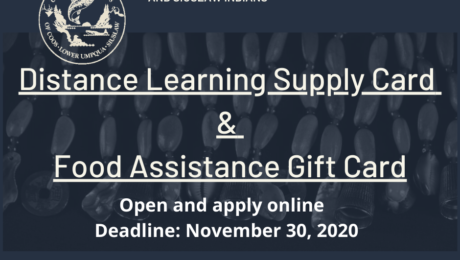 CTCLUSI has received ONE-TIME additional funding related to the COVID-19 pandemic to provide $50 distance learning supply gift cards to CTCLUSI enrolled K-12 students and $150 food assistance gift cards for each CTCLUSI enrolled adult 18 + with an additional $50 food gift card for each CTLCLUSI enrolled child listed on the food assistance application form.

The deadline to apply for distance learning supply and food assistance is Monday, November 30, 2020

To apply for the distance learning supply gift cards and the food gift cards visit www.ctclusi.org and select Distance Learning Education Assistance Form and Food Assistance Application Form. Gift cards will be mailed out as forms are processed.
If you are unable to complete the forms online, please contact CarolAnn Young @ 541-435-7159 for assistance.

If you have questions regarding the distance learning educational supply cards please contact Josh Davies, Education Director @ 541-888-1314. If you have questions regarding the food assistance gift cards please contact
CarolAnn Young, Behavioral Health Care Coordinator @ 541-435-7159.

These services are provided by CTCLUSI Health and Family Support Services & Education Departments and are funded by the Oregon Health Authority Tribal Mental Health Investment CARES Act funding.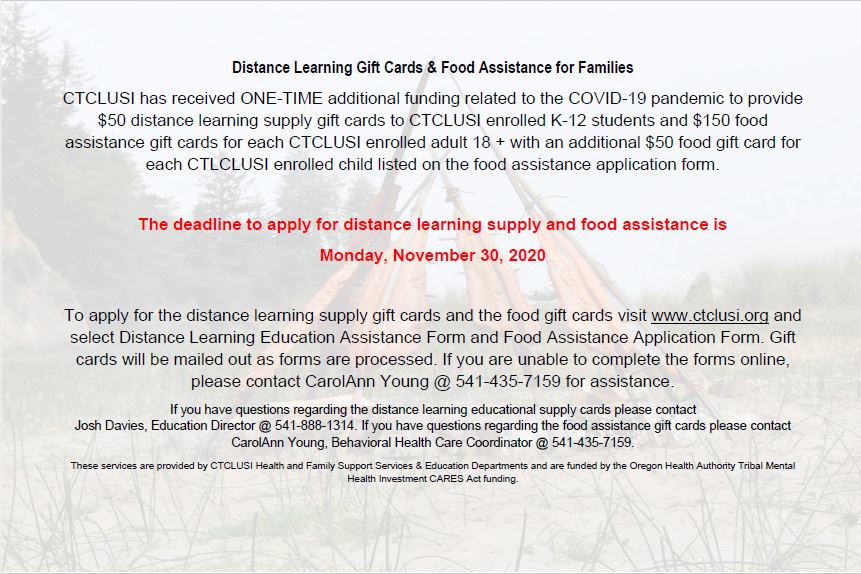 TITLE: 1 GENERAL PROVISIONS
Chapter 1-15 Executive Management
The Tribal Council has determined amendments are needed for Chapter 1-'15 Executive Management; and The Tribal Council wishes to amend CLUSITC Chapter 1-15 to: revise references to the "Tribal Administrator" to "Chief Executive Officer"; include reference to promotion and encouragement of a culturally inclusive workplace environment consistent with the Tribe's core values; promotion of cooperation between departments and programs; and expands the conflict of interest section to include domestic partners and roommates; and Tribal Council hereby approves the amendment of Chapter 1-15 Executive Management Code, as set out in the attached Exhibit A hereto, and hereby approves such draft for first reading and posting for a twenty-eight (28) day period.
DATE OF THE TRIBAL COUNCIL MEETING AT WHICH THE PROPOSED CODE IS EXPEGTED TO BE CONSIDERED FOR FINAL PASSAGE: December 13,2020
The notice of the proposed amendment/ creation of Code/Ordinance shall be published in the Tribal Newsletter and the text will be posted for public comment for twenty-eight (28) days in the Administration Building, Tribal Hall, Outreach Offices, on the Tribes' website and at Three Rivers Casino (Office of the Gaming Commission). Written comments should be sent to the Tribal Council in care of Jeannie McNeil, CTCLUSI, 1245 Fulton Avenue, Coos Bay OR 97420 or email: jmcneil@ctclusi.org