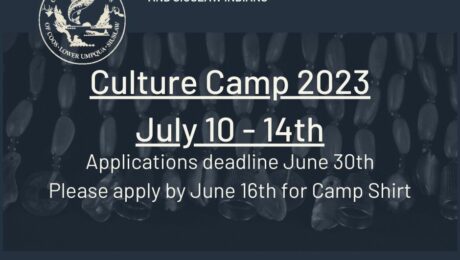 Culture Camp 2023 is in person this year and is being held from July 10-14th at the Mapleton School (Overnight camp is available to 3rd-12th graders of CTCLUSI families, youth of other Tribes, and youth of Tribal Administration Staff. Overnight camp is not being extended to youth under the age of 8 at this time. However, youth ages 5-7 may attend camp during the day from 7:30am – 5:30pm and must be accompanied by a parent/guardian.
Transportation for overnight campers is available from 3 locations this year: Tribal Administration in Coos Bay, the Florence Outreach Office, and the Eugene Outreach Office. Daily Transportation for K-2nd graders will not be provided to and from camp.
Deadline to sign up for camp is Friday, June 30th. In order to receive a camp shirt, campers must sign up by no later than Friday, June 16th.
Upon sign up, you and your youth will receive an email confirmation and a list of suggested items to bring to camp. No later than one week before camp, you and your youth will receive a camp agenda via email.
For more information, please contact Jesse Beers @ 541-297-0748, jbeers@ctclusi.org
Please note, if you are applying for On Call/ Special Events Employee, you will need to create a special login for the HR page as it is not the same as logging in to the Citizen Portal.