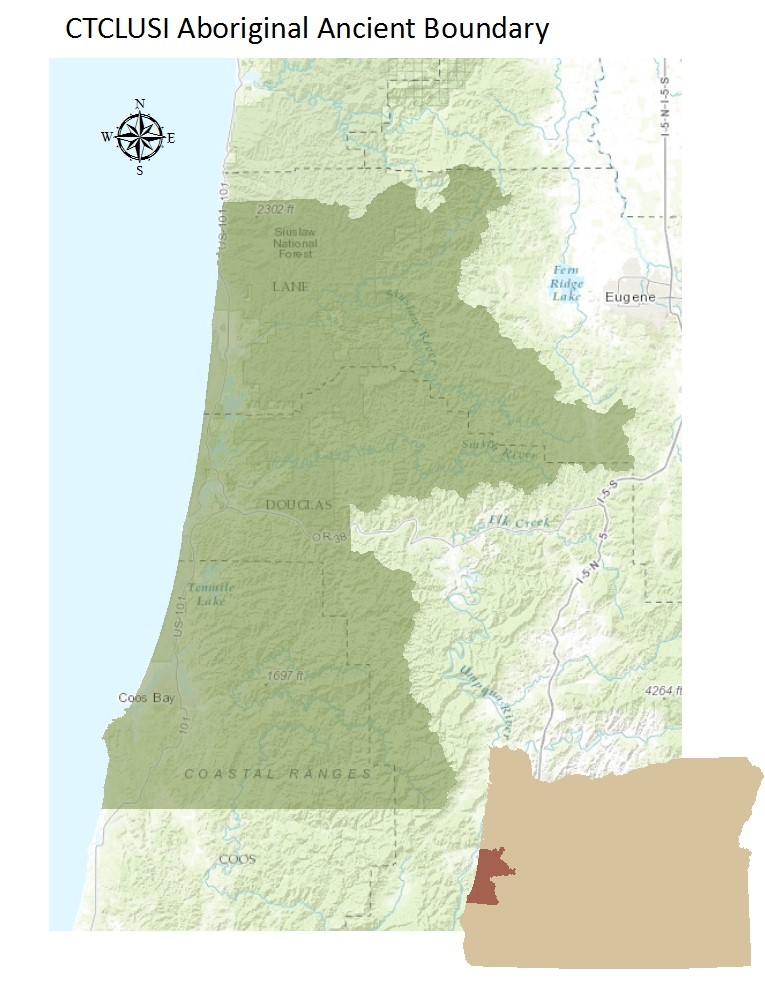 The Confederated Tribes of Coos, Lower Umpqua and Siuslaw Indians are made up of 3 tribes (4 Bands): 2 bands of Coos Tribes: Hanis Coos (Coos Proper), Miluk Coos; Lower Umpqua Tribe; and Siuslaw Tribe. Although both Coos bands lived in close proximity to one another on the Coos River tributaries, they spoke different dialects of the Coos language and had their own unique history and cultural differences. A days walk north from the Coos River, you found yourself in the Lower Umpqua territory with a much different spoken language that both the Lower Umpqua and Siuslaw bands shared; the Siuslaw language.
The diversity of languages and cultures you can find along the West Coast attests to the longevity these bands sustained for hundreds of generations in the lands they call home.
The tribes trace their ancestry back to the aboriginal inhabitants of the South-Central coast of Oregon. Their historic homelands extended from the richly forested slopes of the Coastal Range in the East to the rocky shoreline of the Pacific Ocean in the West, a vast region of some 1.6 million acres. They lived peacefully in an area characterized by moderate temperatures and abundant natural resources, including fish, shellfish, wildlife, and a rich variety of edible plants. This was their land; the Coos cosmology states that:
Two young men from the Sky World looked down below, and saw only water. Blue clay they laid down for land, and tule mats and baskets they laid down to stop the waves from running over the land. Eagle feathers they planted, and they became trees. As they were thinking, it was happening. All kinds of vegetation grew; animals came. The world became beautiful. The world became as it is now.