Confederated Tribes of Coos, Lower Umpqua & Siuslaw Indians Communications Specialist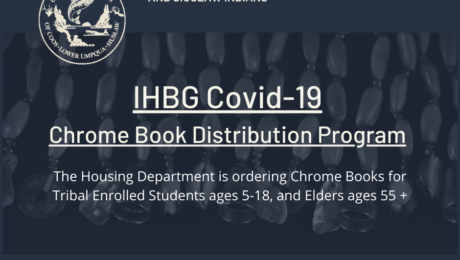 The Housing Department is ordering Chrome Books for Tribal Enrolled Students ages 5-18, and Elders ages 55 +
If you meet, these criteria and you have a need for one of these devices to assist
You in Distance Learning, or Telehealth / Distancing communications; Please fill out a request form here.
Please not inventory will be limited, Pick up times and dates will be scheduled with social distancing measures later in January and February 2021. Pick up is encouraged and sites will be at all three Government offices, Coos Bay, Florence, and Eugene.
If you have, any questions please contact Laura Forting, Director of Housing or Josh Davies, Director of Education.
Laura Fortin
541-888-7504
Josh Davies
541-888-1314
Thursday, 15 October 2020
The Language Committee, newly established by the Tribal Council meets from 5:00-7:00pm on the 4th Friday of each month (with instances of different meeting dates in the cases of Holidays coinciding. At their second meeting held on September 25th, the (8) sworn in members of the Committee nominated and voted in Chairwoman Alycia Cossey, Vice-chair Jamie Beisanz and Secretary Rachael Schaefer to their Committee roles. They have been working hard at establishing Committee bylaws and on September 30th the Tribal Council approved a resolution to establish the committee as a nine (9) member Committee.
With that said, there is a vacancy for position #9. Position #9 will be posted on Oct 19th for 28 days on the Tribal website and in the November edition of The Voice of CLUSI newsletter with a deadline of November 16 or until filled.
Fill out a letter of interest form to apply.
Sunday, 13 September 2020
September 13, 2020
FOR IMMEDIATE PRESS RELEASE
RE: CTCLUSI Forest Lands Closure
The Confederated Tribes of Coos, Lower Umpqua & Siuslaw Indians (CTCLUSI) are announcing the closure of all Tribal forest lands due to extreme fire conditions until further notice.
Wildland fires continue to threaten life, property and resources throughout the western states of Washington, Oregon and California. We join our Federal, State and private land management partners in this closure during these extreme and dangerous fire conditions. The combination of high heat, significant wind events and dry conditions, combined with regional limitations of our wildland fire fighters and resource support, have contributed to these unprecedented events. We offer our prayers and support to all those involved in meeting the demands of this threat.