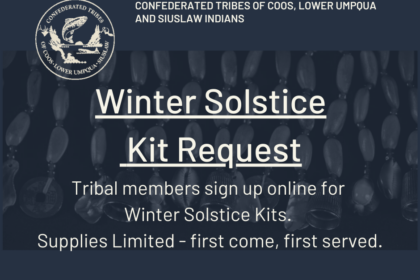 ***Winter Solstice Kit sign up has ended. Updated 12/28/21***
COVID-19 is still limiting our ability to gather together, the Tribe would like to offer Winter Solstice Kits for interested CTCLUSI Enrolled Tribal Members in lieu of the Winter Solstice Gathering.
Winter Solstice Kits are limited, so they will be available on a first come, first served basis while supplies last.
These kits are sponsored in part by Youth Suicide Prevention and Tobacco Prevention Grants. Thank you Family Services, Education, and Culture and Natural Resources for making these kits possible.