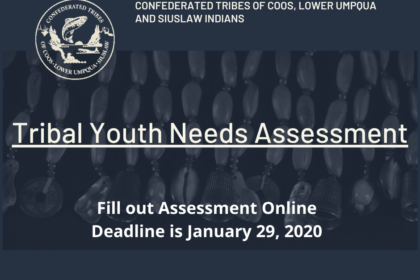 Education should be accessible, community led, guided and driven. We are working hard as the new Education Department team to create and implement programming that is culturally relevant and accessible to all Tribal members. Please take the opportunity to fill out the needs assessment to help guide future programming and identify needs of our students and families.
The Tribal Youth Needs assessment can be accessed on the main CTCLUSI Website or at https://laserfiche.ctclusi.org/Forms/Tribal-Youth-Needs-Assessment
The Deadline to Complete the needs assessment is January 29, 2021 All enrolled Tribal Children ages 0-17 will receive a $30 incentive gift card to either Amazon or Walmart, whichever is selected on the form. Please make sure to provide a current mailing address.
If you need help filling out the assessment contact Eriq Acosta, Education Specialist II at 541-888-1315 or eacosta@ctclusi.org.