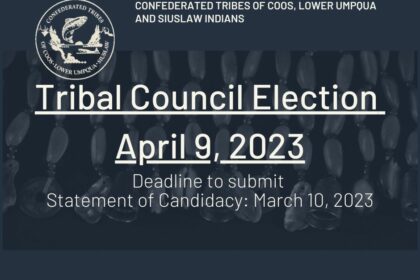 Next Tribal Council Election will be held on April 9, 2023.
Each Council member shall be elected for a four (4) year term at the appropriate General Council meeting in the year of the expired term. Council Positions #1, #3, and #5 shall be elected in odd-numbered years. Positions #2, #4 and #6 shall be elected in even-numbered years.
7-3-23 Candidate Eligibility
According to the Tribal Constitution (Article VIII, Section 4(a)), in order to be eligible for election to a Tribal Council position, candidates shall meet the following qualifications:
(a) Be a duly enrolled member of the Confederated Tribes;
(b) Be at least twenty-one (21) years of age; and
(c) Never have been previously removed from office for good cause after
the date the Tribal Constitution was ratified. (May 23, 1987).

7-3-24 Candidacy Procedures
(a) Statements of Candidacy
(1) Candidates shall file Statements of Candidacy no later than thirty (30) days before the scheduled date of the election. CLUSI Const. Art. VIII, Section 4(c).
(2) Statements of Candidacy must be filed with the Election Board either by mail, hand delivered to the Tribal Administrative offices, or delivered to the Election Board Chairperson. In order to verify timeliness of filing, a candidate may request a statement of receipt of said Statement of Candidacy from whoever receives the statement. The statement shall state, at a minimum, the name of the person accepting the statement, name, roll number and signature of the person presenting the statement, and date and time of the transaction.
(3) Each candidate shall indicate the position for which he or she is filing. Once a person has filed for a position, he or she will not be allowed to change positions or to withdraw and refile for the same election.
(4) Candidates may request that additional materials be mailed, at the candidate's expense, to all eligible voters. The additional materials shall be provided to the Election Clerk with return addresses and proper postage affixed. The Election Clerk will affix mailing labels and submit to the post office for mailing.
For a complete Election Code please see Tribal Code, Ch 7-3 Elections.
Deadline to Submit a Statement of Candidacy: March 10, 2023 by 5:00 p.m.
Candidates for Tribal Election, April 10, 2022.
| | | |
| --- | --- | --- |
| Position # 1 | Position # 3 | Position #5 |
| | | |
| | | |
| | | |
| | | |
Candidates who have submitted a Position Statement will have their names appear below in a teal button. Click the buttons below to open and read candidate statements.
Candidate Forum Information
Candidates are not required to participate; however, there will be an opportunity for any candidate to meet with the membership and have a question/answer session.
Saturday, March 11, 2023
10:00 a.m. to 1:00 p.m.
Location in Person: The Community Center in Coos Bay.
Virtual: A zoom link will be provided.