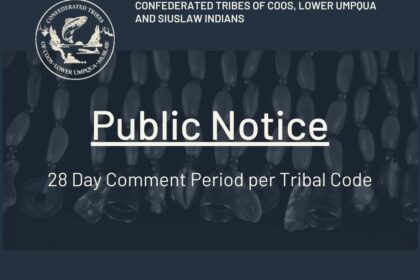 The following two (2) proposed Codes was passed for First Reading by Tribal Council on March 12, 2023
TITLE: 1 GENERAL PROVISIONS
Chapter 1-18 Burial Benefit Fund
The Tribal Council has determined a need for this Burial Benefit Fund; and
The purpose of this Code is to assist Tribal families who may experience a financial hardship due to the loss of a spouse or family member and to better define a service that is already offer to membership.
TITLE: 10 NATURAL RESOURCES AND THE ENVIORONMENT
Chapter 10-1 Water Quality Standards
The Tribal Council has determined a need for this Water Quality Standard; and
The purpose of these standards is the safeguard, maintain and improve the quality of the Tribes waters… the Department of Natural Resources is responsible for the development of these standards.
Tribal Council hereby approves the establishment of Chapter 1-18 Burial Benefit Fund and Chapter 10-1 Water Quality Standards , and hereby approves drafts for first reading and posting for a twenty-eight (28) day period.
DATE OF THE TRIBAL COUNCIL MEETING AT WHICH THE PROPOSED CODE IS EXPECTED TO BE CONSIDERED FOR FINAL PASSAGE:
May 14, 2023
The notice of the proposed amendment/creation of Code/Ordinance shall be published in the Tribal Newsletter and the complete Codes  will be posted for public comment for twenty-eight (28) days in the Administration Building, Tribal Hall, Outreach Offices, on the Tribes' Website and at Three Rivers Casino (Office of the Gaming Commission).  Written comments should be sent to the Tribal Council in care of Jeannie McNeil, CTCLUSI, 1245 Fulton Avenue, Coos Bay OR 97420 or email:  jmcneil@ctclusi.org.