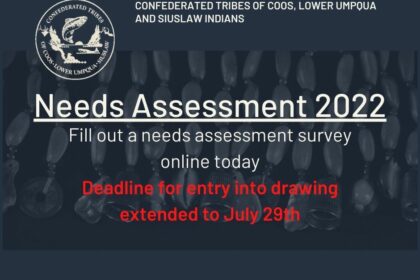 Tribal Government Programs and Services Needs Assessment 2022
We are requesting feedback from Enrolled CTCLUSI Members.
Our goal is to identify any unmet needs or barriers concerning Tribal Membership. This information will assist various Tribal Government departments to explore future opportunities for programs and services to best serve our people.
Submissions received by July 29th, will be entered in a random drawing.
(Deadline extended from July 15th to July 29th)
Ten (10) winners will be randomly selected, each to receive a $50.00 visa gift card.
(Only one entry in the drawing allowed per person ages 16+)
Contact Debbie Bossley, Enrollment Specialist, if you need assistance.  1-888-280-0726 or 541-888-7538 or call Jeannie McNeil 541-888-9577 for any questions.