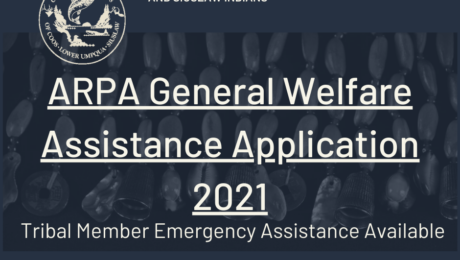 *** The ARPA Assistance Application period has closed as of 12/1/21. Please contact the main Tribal Government Office with any inquiries at 541-888-9577. This post was updated on 12/2/21. ***
October 19, 2021
Dear Tribal Member,
Tribal Council has made the decision to utilize American Rescue Plan funds to provide cash assistance to eligible Tribal Member households to address negative economic impacts caused by the COVID -19 pandemic during the period of March 3, 2021 through December 31, 2021. The amount of assistance for 2021 is based on Tribal Council's assessment of the severity of actual and reasonably anticipated COVID-19 economic impacts upon our Tribal Member population during this time period. Please note that this assistance must only be used to address these specific impacts.
Beginning October 19, 2021, each eligible enrolled adult member and enrolled minor child will be able to submit an application to receive this assistance. Deadline for submission of a complete application is November 30, 2021.
To be eligible to receive this assistance payment:
You must be an Enrolled CTCLUSI member as of October 17, 2021 OR you must have a completed Enrollment Application approved by the Enrollment Committee by November 9, 2021.
You must have an approved Tribal Member Emergency COVID -19 General Welfare Assistance American Rescue Plan (ARPA) application on file.
You or your household experience negative impacts from the COVID -19 Pandemic in an amount not less than the assistance amount.
If you have any questions, please contact ENROLLMENT by email at jmcneil@ctclusi.org for further instruction.
Applications must be submitted and approved by December 1, 2021.
Wednesday, 16 December 2020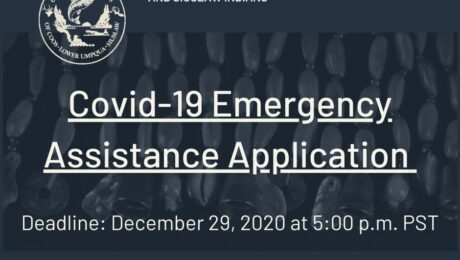 The deadline to apply has passed (December 29, 2020 @ 5:00 p.m. PST)
The COVID-19 Emergency Assistance Program is designed to provide economic assistance to enrolled Tribal members who have experienced financial hardships due to the effects of the COVID-19 pandemic. Funding of this program is in accordance with the federal CARES Act Relief Fund and is non-taxable as a Tribal general welfare assistance program. Please refer to CTCLUSI's Tribal Member COVID-19 Emergency Assistance Program Plan for details on eligibility and use of this assistance, and/or the Application Instruction Form. APPLICATION DEADLINE: December 29, 2020 by 5:00pm, PT (Pacific Time). DISTRIBUTIONS: Beginning on or about December 16, 2020. Approved applications will be processed in the order they are received until the funding deadline.