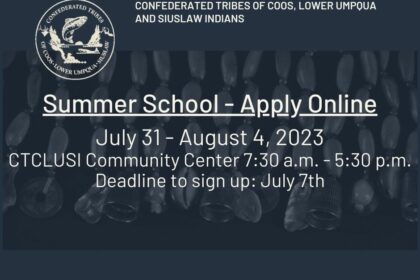 Summer School Day Camp 2023 is in person this year and is being held from July 31st-August 4th at the Tribal Hall Reservation (338 Wallace Ave, Coos Bay, OR). Summer School will be from 7:30 am – 5:30 pm. Students must be 5 years or older, youth ages 5-7 must be accompanied by a parent/guardian.
Transportation for Summer School is by request, in the Coos Bay area.
Deadline to sign up for camp is Friday July 14th. In order to receive a camp T-shirt, students must sign up by no later than Friday, July 7th.
Upon sign up, you and your youth will receive an email confirmation and a list of suggested items to bring to camp. No later than one week before camp, you and your youth will receive a camp agenda via email.
For more information, please contact Brandy Lauby at (541) 888-1314 or email blauby@ctclusi.org