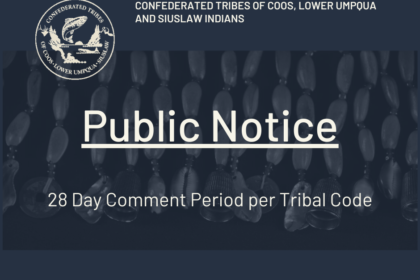 NOTICE OF CODE AMENDMENTS
The following proposed Codes was passed for First Reading by Tribal Council on August 14,2022
TITLE: 1 GENERAL PROVISIONS
Chapter 1-6 Public Records
TITLE: 7 ENROLLMENT. COMMI ELECTIONS AND REFERUMDUMS
Chapter 7-8 Gaming Facility Operational Review Board
The Tribal Council has determined amendments are needed for Chapter 1-6 Public Records and chapter 7-8 Gaming Facilities Operation Review Board.
Tribal Council hereby approves the amendments to both Codes for first reading and posting for a twenty-eight (28) day period.
DATE OF THE TRIBAL COUNCIL MEE AT WHICH THE PROPOSED CODE IS EXPECTED TO BE CONSIDERED FOR FINAL PASSAGE
October 9,2022
Please visit www.ctclusi.orq for complete draft edits to both Codes for membership to review.
The notice of the proposed amendment/creation of Code/Ordinance shall be published in the Tribal Newsletter and the text will be posted for public comment for twenty-eight (28) days in the Administration Building, Tribal Hall, Outreach Offices, on the Tribes' website and at Three Rivers Casino (Office of the Gaming Commission). Written comments should be sent to the Tribal Council in care of Jeannie McNeil, CTCLUSI, 1245 Fulton Avenue, Coos Bay OR 97420 or email: imcneil@ctclusi.org.