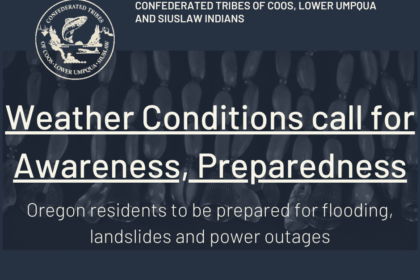 News Release from Oregon Office of Emergency Management
Posted on FlashAlert: January 11th, 2021 6:04 PM
Oregon's Office of Emergency Management urges residents to be prepared for flooding, landslides and power outages
Salem, OR – January 11, 2021 – With heavy winter rains and high winds forecasted across the state over the next few days, Oregon's Office of Emergency Management encourages residents to be aware – and prepared – for flooding, landslides and power outages.
Basic preparedness actions can help prevent dangerous situations. This begins with having an emergency kit with necessary supplies for up to two weeks, a practiced family plan with steps for what to do in an emergency, and knowing the difference between a flood watch and a flood warning.
Flooding
Intense rainfall over a short period of time can cause rivers and streams to rise rapidly, often catching people living near these water sources off guard. Flash floods move with incredible speed and occur when heavy rain falls on already-saturated ground. In addition, loss of vegetation due to wildfires leaves the ground charred and unable to absorb water. Even areas that are not traditionally flood-prone are at risk of flooding for up to several years after a wildfire.
Avoid walking through flood waters; they may be contaminated with oil, gas or raw sewage. Waters may also be hiding hazards and debris.
Be aware of weather conditions in your area before driving. Many flood-related incidents are caused by vehicles driven into hazardous waters.
Use ODOT's Tripcheck for the latest road conditions before traveling.
Heavy rains reduce drivers' visibility. When driving, turn on your lights, increase following distance and slow down. Visit ODOT's webpage for Driving in the Rain Tips.
Heed the advice of emergency officials regarding evacuations.
Listen to weather and emergency updates on the TV, radio, social media.
Landslides
As Oregon recovers from the recent wildfires, residents living in and around wildfire areas should be aware of risks such as landslides and mudflows. People, structures and roads located below steep slopes in canyons and near the mouths of canyons may be at serious risk.
Signs of landslides include:
Changes in landscape such as changes in water runoff, leaning trees or land movement.
Water in streams or creeks that suddenly turns muddy or if the amount of water flowing suddenly decreases or increases.
New cracks in plaster, tile or foundations.
Unusual sounds that might indicate moving debris, such as trees cracking or boulders knocking together.
Underground utility line breaks.
For more information on landslides, check http://www.ready.gov/landslides-debris-flow.
Power outages
High winds and downed trees often cause of power outages. Take time to check your emergency kit before a storm hits. At a minimum, every home should have an emergency power outage kit that includes flashlights, battery-operated radio/clock, extra batteries, non-perishable foods, bottled water and blankets. If you experience a power outage in your home or area:
Keep freezers and refrigerators closed.
Only use generators outdoors and away from windows.
Have alternate plans for refrigerating medicines or using power-dependent medical devices.
Check on your neighbors.
Stay away from – and don't drive around – downed power lines and utility lines; even if they are not sparking, they could be energized and extremely dangerous.
Turn on your porch light. After response crews complete repairs, they patrol the area of the power failure to see if any lights are still out.
Disaster preparedness is an important priority for the Oregon Office of Emergency Management and we encourage people to prepare for emergencies. It's critical for families, individuals, communities and businesses to make an emergency plan, and communicate the plan before, during and after emergencies. For additional preparedness resources, visit https://www.oregon.gov/oem/hazardsprep/Pages/Individual-Preparedness.aspx.