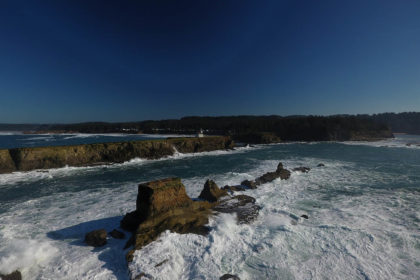 Bal'diyaka
The Importance of Salmon Ceremony: Remembering the Past While Looking to the Future
Article printed in the August 2020 edition of The Voice of CLUSI Tribal paper, by Morgan Gaines, Communications Specialist

Due to the Novel Coronavirus (Covid-19) Pandemic, the Tribal Council of The Confederated Tribes of Coos, Lower Umpqua and Siuslaw Indians made the difficult decision not to gather for the Annual Salmon Ceremony on the second Sunday of August. While this decision did not come lightly, it was made in the best interest of keeping our Tribal members, families, and staff safe during these uncertain times. One of the most effective ways of keeping the spread of the virus to a minimum is to reduce the number of people gathering and by maintaining social distancing. While we are not coming together to celebrate and hold ceremony this year, the Tribal Council has planned to perform a small private ceremony in honor of the Salmon People and encourage us all to think about the importance of this great tradition and perhaps hold ceremony in our own ways with just those in our own households. It is important to remember the reasons we gather for Salmon Ceremony (and look forward to celebrating 2021 together) to honor and respect the Salmon People in ceremony.
Traditionally we came together as a people on the first catch to thank and honor the Salmon. It is important that we not forget that and we continue to thank them hiis haiyach (with a good heart). The Salmon Ceremony has always been planned by the Tribal Chief. This year would have been newly elected Chief Doc Slyter's first ceremony as Chief, with the honor of conducting the ceremony itself. "It saddens my heart that we are not able to a gather this year for Salmon Ceremony, but that is why we will still cook one Salmon together to hold ceremony. Our Tribal members that come from all over for Salmon Ceremony will be missed, and we miss seeing all our local members. We are resilient and will come together again once it is safe to do so" shared Chief Slyter. I asked Cultural Stewardship Manager, Jesse Beers to share his perspective on the importance of Salmon Ceremony each year. He said "Usually in late July I would either be getting back from Canoe Journey or from some sort of Culture Camp activities and prepping for Salmon Ceremony. Salmon Ceremony for our Tribe happens the first Sunday of August why? Because it's in our constitution. This Ceremony is not only a celebration of the Salmon but it is a Sacred Ceremony in which we honor and thank the Salmon People. I am usually one of the people with the honor of cooking the Salmon in one of the traditional ways, split cedar stakes. Cooking over a mix of green and cured alder. After cooking them in a traditional way, we save any remains and return them to the waters through Ceremony, song, and dance. Even if we aren't able to gather though, the fish are still out there and many of us still fish, cook our fish in the traditional ways, and return the remains to the water with song and prayer. The ceremonies will go on even if we aren't able to gather as a community for them." Hold ceremony in your own homes, in your own ways until we can gather again. Our culture lives within each of us. … Salmon Ceremony has also been a time to honor our history. Once a village site for our Miluk ancestors, Baldich, also know as Chief's Island and Gregory Point, has been a place of significance for our Tribe since time immemorial. In recent history the Tribe regained stewardship of the 24-acre property encompassing the island back from the U.S. Coast Guard in 2013. In 2018 we celebrated the signing of our Land Bill, seeing the return of over 14,000 acres of traditional territorial lands back into the stewardship of the Tribe. A ceremony for both of these momentous occasions happened at Baldich respectively. We continue to gather here because of how important this land was to our ancestors and how sacred it remains to us. The land and the water are our lifeways; we have always been here and will continue to be stewards of this place we call home for generations to come. We will come together again once the pandemic eases and it is safe to gather. Until then, we are together in spirit and we look forward to seeing you all soon.