Tribal Council Election Day
April 9 @ 12:00 pm

-

4:00 pm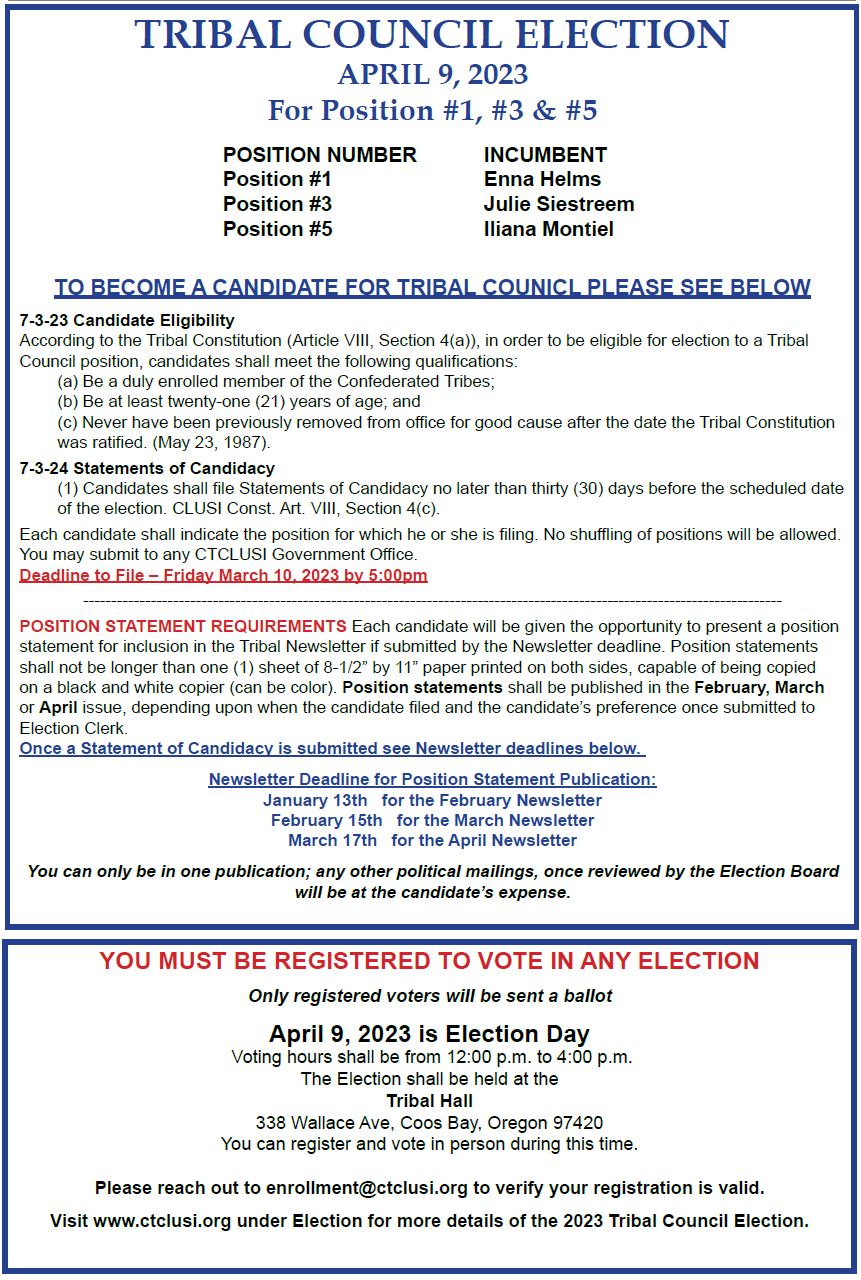 TRIBAL COUNCIL ELECTION
APRIL 9, 2023
For Position #1, #3 & #5
POSITION NUMBER INCUMBENT
Position #1 Enna Helms
Position #3 Julie Siestreem
Position #5 Iliana Montiel
TO BECOME A CANDIDATE FOR TRIBAL COUNICL PLEASE SEE BELOW
7-3-23 Candidate Eligibility
According to the Tribal Constitution (Article VIII, Section 4(a)), in order to be eligible for election to a Tribal
Council position, candidates shall meet the following qualifications:
(a) Be a duly enrolled member of the Confederated Tribes;
(b) Be at least twenty-one (21) years of age; and
(c) Never have been previously removed from office for good cause after the date the Tribal Constitution
was ratified. (May 23, 1987).
7-3-24 Statements of Candidacy
(1) Candidates shall file Statements of Candidacy no later than thirty (30) days before the scheduled date
of the election. CLUSI Const. Art. VIII, Section 4(c).
Each candidate shall indicate the position for which he or she is filing. No shuffling of positions will be allowed.
You may submit to any CTCLUSI Government Office.
Deadline to File – Friday March 10, 2023 by 5:00pm
—————————————————————————————————————————-
POSITION STATEMENT REQUIREMENTS Each candidate will be given the opportunity to present a position
statement for inclusion in the Tribal Newsletter if submitted by the Newsletter deadline. Position statements
shall not be longer than one (1) sheet of 8-1/2" by 11" paper printed on both sides, capable of being copied
on a black and white copier (can be color). Position statements shall be published in the February, March
or April issue, depending upon when the candidate filed and the candidate's preference once submitted to
Election Clerk.
Once a Statement of Candidacy is submitted see Newsletter deadlines below.
Newsletter Deadline for Position Statement Publication:
January 13th for the February Newsletter
February 15th for the March Newsletter
March 17th for the April Newsletter
You can only be in one publication; any other political mailings, once reviewed by the Election Board
will be at the candidate's expense.