Special Election: Council Compensation Vote
December 19, 2021 @ 12:00 pm

-

4:00 pm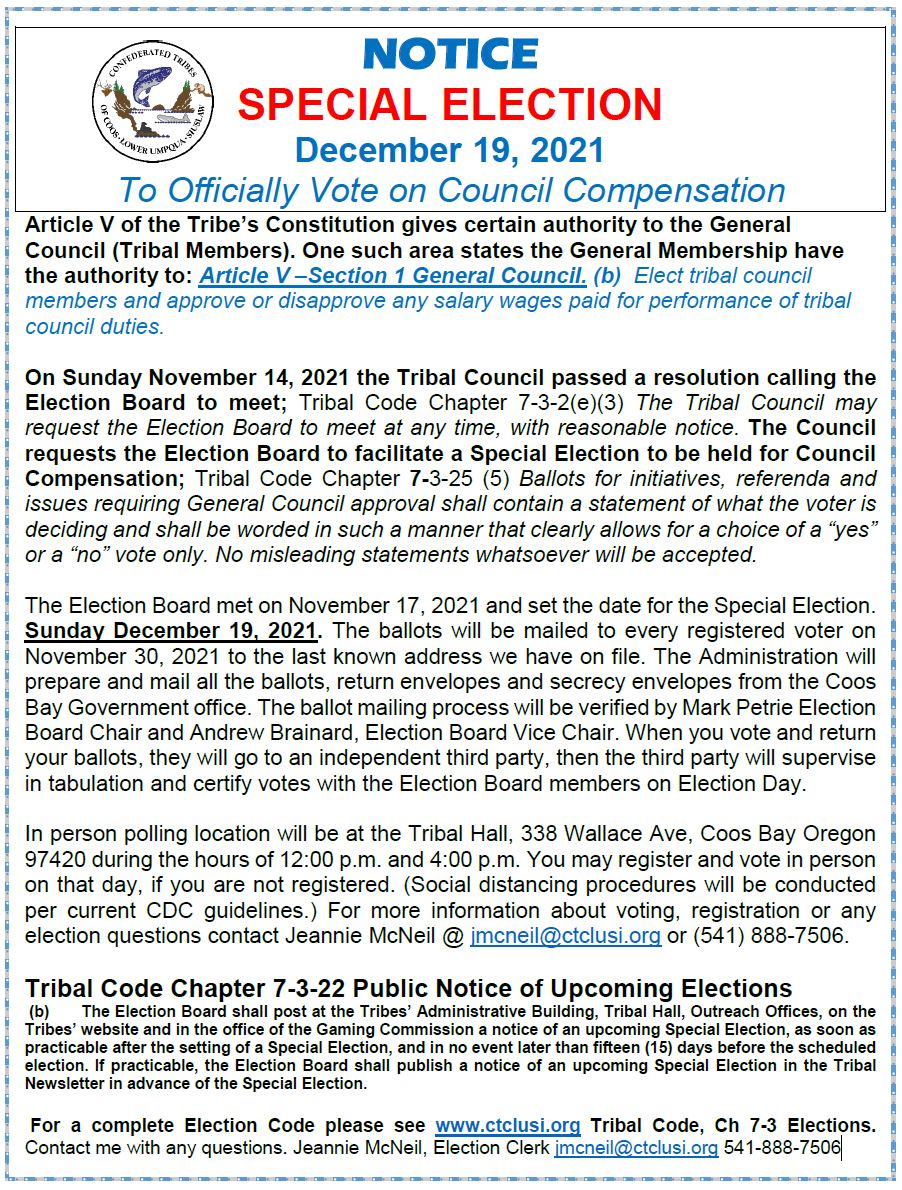 Article V of the Tribe's Constitution gives certain authority to the General Council (Tribal Members). One such area states the General Membership have the authority to: Article V –Section 1 General Council. (b) Elect tribal council members and approve or disapprove any salary wages paid for performance of tribal council duties.
On Sunday November 14, 2021 the Tribal Council passed a resolution calling the Election Board to meet; Tribal Code Chapter 7-3-2(e)(3) The Tribal Council may request the Election Board to meet at any time, with reasonable notice. The Council requests the Election Board to facilitate a Special Election to be held for Council Compensation; Tribal Code Chapter 7-3-25 (5) Ballots for initiatives, referenda and issues requiring General Council approval shall contain a statement of what the voter is deciding and shall be worded in such a manner that clearly allows for a choice of a "yes" or a "no" vote only. No misleading statements whatsoever will be accepted.
The Election Board met on November 17, 2021 and set the date for the Special Election.
Sunday December 19, 2021. The ballots will be mailed to every registered voter on November 30, 2021 to the last known address we have on file. The Administration will prepare and mail all the ballots, return envelopes and secrecy envelopes from the Coos Bay Government office. The ballot mailing process will be verified by Mark Petrie Election Board Chair and Andrew Brainard, Election Board Vice Chair. When you vote and return your ballots, they will go to an independent third party, then the third party will supervise in tabulation and certify votes with the Election Board members on Election Day.
In person polling location will be at the Tribal Hall, 338 Wallace Ave, Coos Bay Oregon 97420 during the hours of 12:00 p.m. and 4:00 p.m. You may register and vote in person on that day, if you are not registered. (Social distancing procedures will be conducted per current CDC guidelines.) For more information about voting, registration or any election questions contact Jeannie McNeil @ jmcneil@ctclusi.org or (541) 888-7506.
Tribal Code Chapter 7-3-22 Public Notice of Upcoming Elections
(b) The Election Board shall post at the Tribes' Administrative Building, Tribal Hall, Outreach Offices, on the Tribes' website and in the office of the Gaming Commission a notice of an upcoming Special Election, as soon as practicable after the setting of a Special Election, and in no event later than fifteen (15) days before the scheduled election. If practicable, the Election Board shall publish a notice of an upcoming Special Election in the Tribal Newsletter in advance of the Special Election.
For a complete Election Code please see www.ctclusi.org Tribal Code, Ch 7-3 Elections. Contact me with any questions. Jeannie McNeil, Election Clerk jmcneil@ctclusi.org 541-888-7506