OSU Indigenous Youth Summer Camp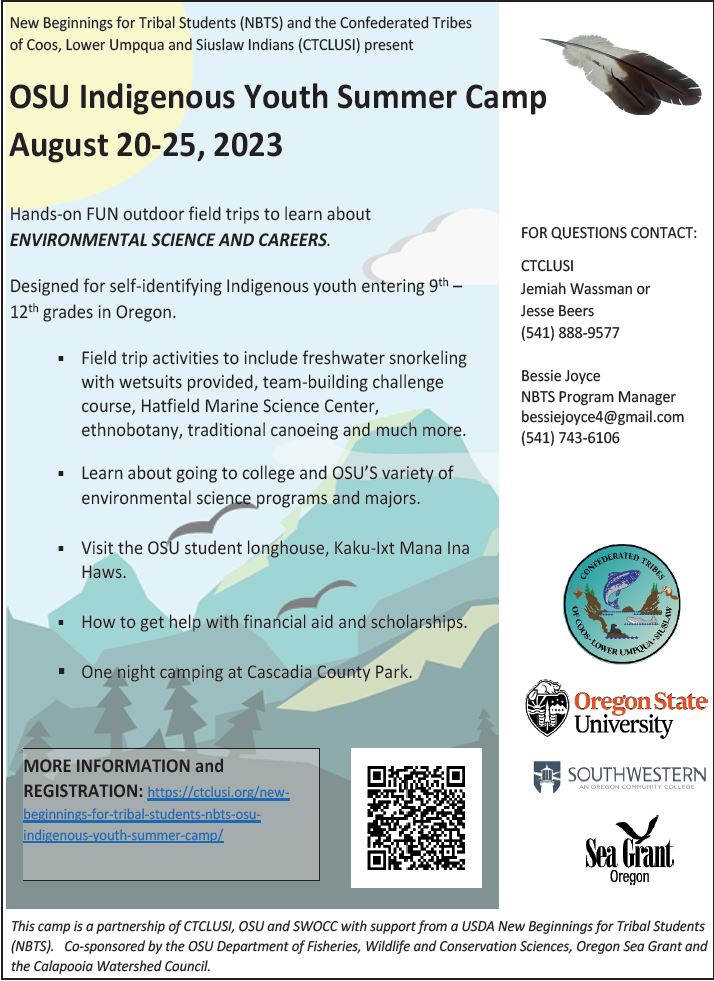 New Beginnings for Tribal Students (NBTS) OSU Indigenous Youth Summer Camp
August 20-25, 2023
Hands-on FUN outdoor field trips to learn about ENVIRONMENTAL SCIENCE AND CAREERS.
Designed for Indigenous youth entering 9th – 12th grades.
Open to self-identifying Indigenous youth in Oregon.
– Learn about going to college and how to get help with financial aid, scholarships, and explore majors!
– Field trip activities to include freshwater snorkeling, Hatfield Marine Science Center, ethnobotany, traditional canoeing and much more.
– Stay in the dorms at Oregon State University in Corvallis, Oregon.
– FREE and all meals and 24-hour supervision provided.
Click here to fill out Registration Form
Click here to fill out additional required waiver
Please be sure to fill out the additional required waiver above. Save it and upload it to your Registration Form (also linked above).
CTCLUSI youth will have priority but early registration is highly encouraged. Application Deadline is June 23, 2023.
FOR QUESTIONS CONTACT:
CTCLUSI
Jemiah Wassman or Jesse Beers, jwassman@ctclusi.org or jbeers@ctclusi.org
(541) 888-9577
Bessie Joyce
NBTS Program Manager
bessiejoyce4@gmail.com
(541) 743-6106
REGISTRATION IS NOW OPEN.
MORE INFORMATION AT
https://ely.oregonstate.edu/indigenous-youthprogram/
This camp is a partnership of CTCLUSI, OSU and SWOCC with support from a USDA New Beginnings for Tribal Students (NBTS). Co-sponsored by the OSU Department of Fisheries, Wildlife and Conservation Sciences, Oregon Sea Grant and the Calapooia Watershed Council.