11th Annual Yachats New Year's Day Peace Hike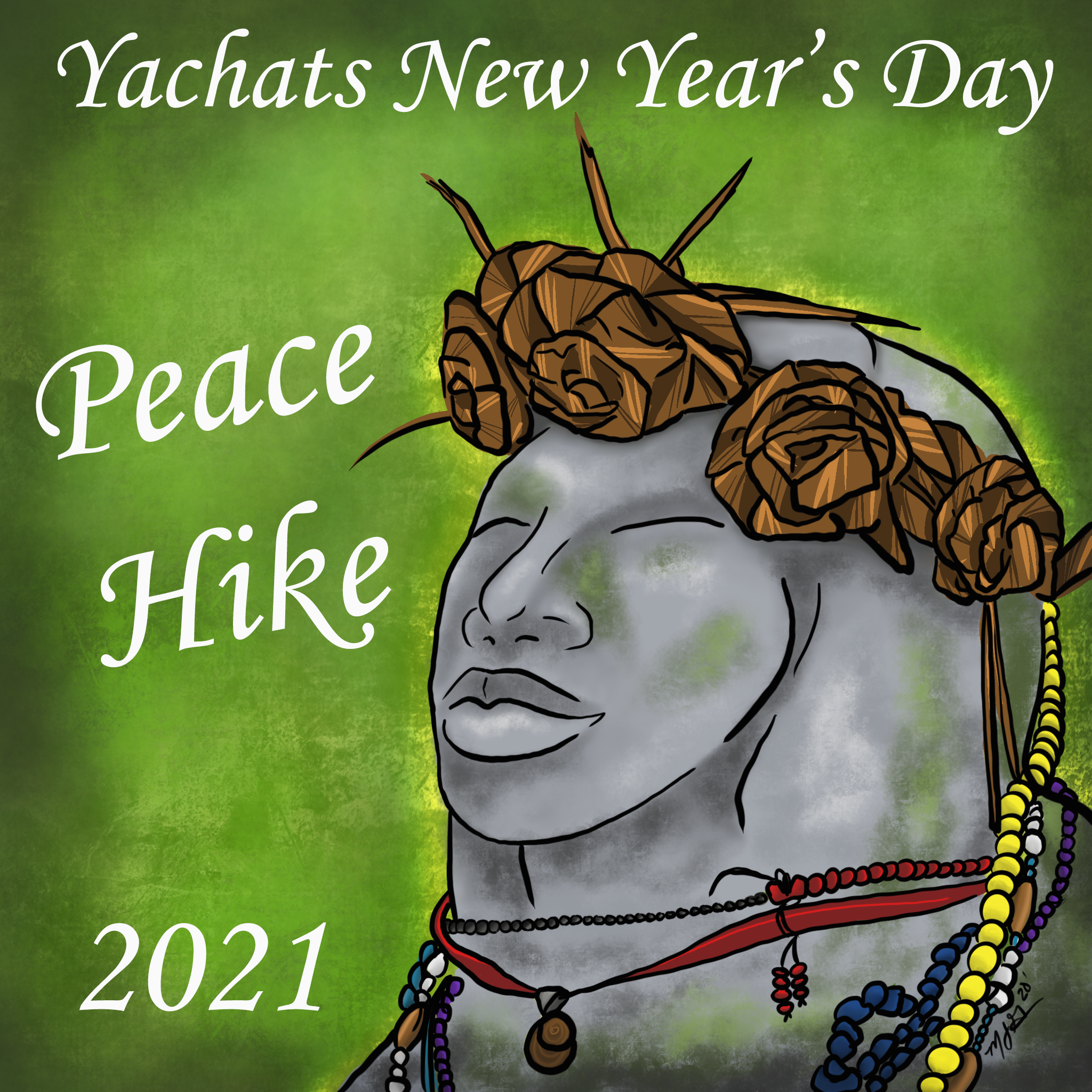 Contributed by Yachats Trails Committee and Mark Petrie, Vice Chair
Wishing you all a Happy New Year 2021!!
I hope you are and your families are all staying safe during this very difficult time. Unfortunately, the Coronavirus pandemic has brought a halt to this year's 11th New Year's Day Peace Hike. This saddens my heart, but as we move forward in the new 2021 year and need positive energy, remember hereditary Tribal Chief Daloose Jackson's Dream Power Song – (hli-in – hel hantl tuuwitiniiye) "We're not going to fall down" – a message from Chief Doc Slyter
During the current pandemic it is the Yachats Trails Committee's first priority to ensure the safety of all who want to participate in the 2021 Yachat New Year's Day Peace Hike, and therefore we will not conduct this event as we traditionally have done as one group. We are organizing it differently to assure safety. We are requesting participants conduct your own peace hikes or other special rituals of peace.
First, we suggest you watch the video with Patricia Whereat Phillips, Miluk Coos Tribal member, linguist, of the Confederated Tribes of Coos, Lower Umpqua and Siuslaw Indians (CTCLUSI), narrating the Amanda Story. The video will be posted on the City of Yachats (www.yachatsoregon.org), View the Future (www.viewthefuture.org), and Yachats Chamber (www.yachats.org), CTCLUSI Government (www.ctclusi.org) websites.
The following are suggested guides to find that place of peace within you: You may want to take a walk, or a hike near where you live, visit the Amanda Trail and Amanda statue, or may want to
sit with loved ones or alone in meditation or thought. As with the traditional Amanda New Year's Day gatherings, you may want to breathe peace into a sprig of cedar or other object and release your wishes into a fire or into the air. You may want to sing. Whatever is keeping with achieving or maintaining peace in your heart is the right thing to do. Your engagement with peace is to be able to then hold this peace in your hearts when you engage others, and as the year goes on to courageously speak out against injustice, bigotry, and callous perspectives on those who suffer.
Peace Hike buttons will be available to participants. This year's Peace Hike button is created by Morgan Gaines, Quuiich (Lower Umpqua) Tribal member, CTCLUSI. Buttons will be available at
the City Visitor Center, Yachats Chamber Office, or you can email yachatstrails@gmail.com with your request, name and address, to receive a button.
The Tribe will also have a limited supply of buttons and are available on a first come – first serve – basis for Tribal Families, contact a Tribal Outreach Office nearest you to arrange a pickup in Coos Bay, Florence, and Eugene.