Election Day: Tribal Council Election 2022
April 10, 2022 @ 8:00 am

-

5:00 pm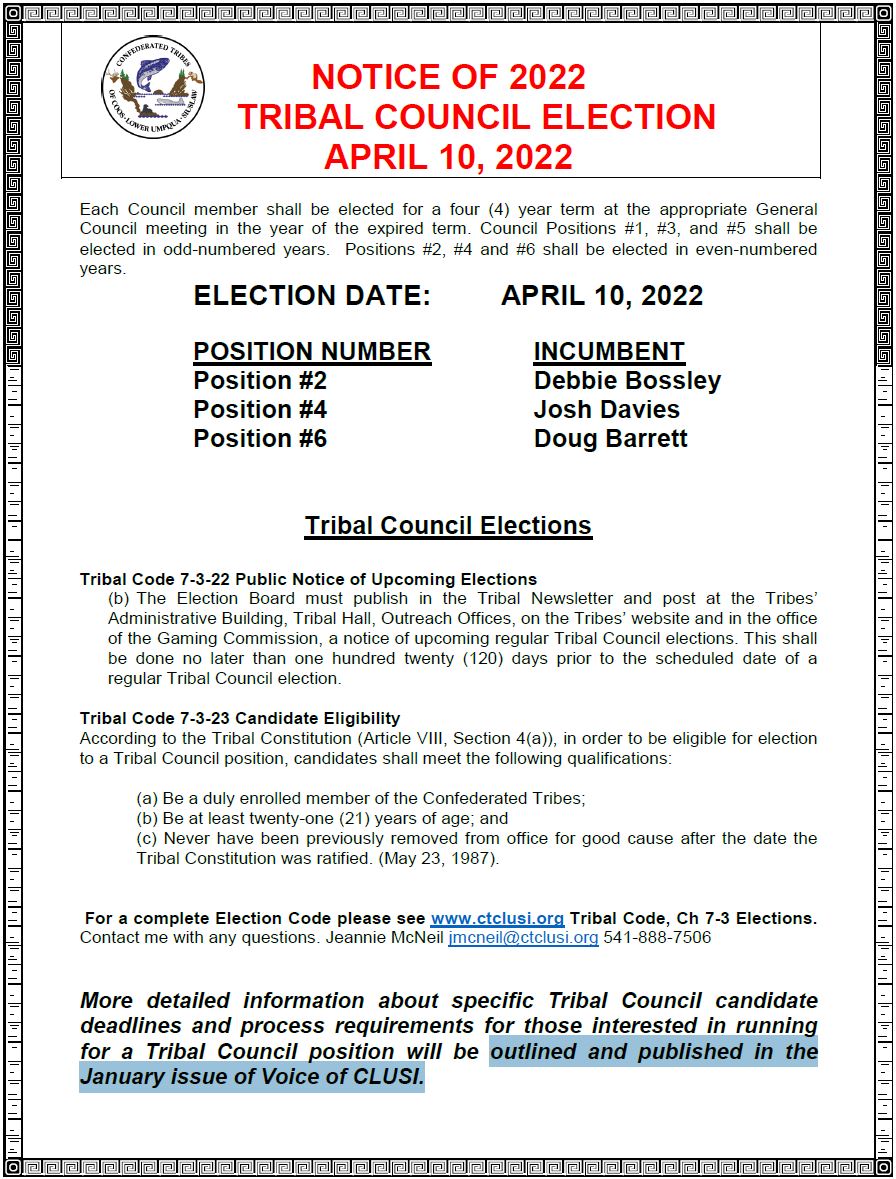 Each Council member shall be elected for a four (4) year term at the appropriate General Council meeting in the year of the expired term. Council Positions #1, #3, and #5 shall be elected in odd-numbered years. Positions #2, #4 and #6 shall be elected in even-numbered years.
ELECTION DATE: APRIL 10, 2022
POSITION NUMBER and INCUMBENT
Position #2 Debbie Bossley
Position #4 Josh Davies
Position #6 Doug Barrett
Tribal Council Elections
Tribal Code 7-3-22 Public Notice of Upcoming Elections
(b) The Election Board must publish in the Tribal Newsletter and post at the Tribes' Administrative Building, Tribal Hall, Outreach Offices, on the Tribes' website and in the office of the Gaming Commission, a notice of upcoming regular Tribal Council elections. This shall be done no later than one hundred twenty (120) days prior to the scheduled date of a regular Tribal Council election.
Tribal Code 7-3-23 Candidate Eligibility
According to the Tribal Constitution (Article VIII, Section 4(a)), in order to be eligible for election to a Tribal Council position, candidates shall meet the following qualifications:
(a) Be a duly enrolled member of the Confederated Tribes;
(b) Be at least twenty-one (21) years of age; and
(c) Never have been previously removed from office for good cause after the date the Tribal Constitution was ratified. (May 23, 1987).
For a complete Election Code please see www.ctclusi.org Tribal Code, Ch 7-3 Elections. Contact me with any questions. Jeannie McNeil jmcneil@ctclusi.org 541-888-7506
More detailed information about specific Tribal Council candidate deadlines and process requirements for those interested in running for a Tribal Council position will be outlined and published in the January issue of Voice of CLUSI.